What's up with all of the decentralized exchanges (DEXs) coming out of nowhere? This didn't use to happen, so why all the fuss now?
The interest in DEXs has skyrocketed recently. Just one year ago, cryptocurrency was in a bear market and the large majority of trading volume was on centralized exchanges. Flash forward to today, DEXs are competing heavily for market share. It's been a sudden, almost unexpected change.
The thing is, DEXs aren't new. They've been around for years. They just haven't been that great to use. Most people that used DEXs in the past would only do so for two reasons:
No KYC
They had to – for example because the asset they wanted to trade wasn't available anywhere else
But now, things are different. It was thought that DEXs weren't advanced enough, and that's why they weren't capturing more of the market. Why would people use a DEX when a normal exchange had so many better features?
In reality though, this wasn't the case. Uniswap has been the DEX leading the charge, and that certainly doesn't have advanced trading features, it's literally just a swap. In fact, the main advantages of Uniswap, and the other popular DEXs at the moment, are as follows:
No KYC
Extremely simple to use
Liquidity rewards, which enable holders to earn money as they hold
Anyone can list their token
Number 4 is perhaps the most important, and that's what spurred the DEX interest recently. Projects can list their token on Uniswap, or other similar DEXs, without having to pay a huge listing fee or a long tiresome due diligence process. Instead, they can put up the liquidity themselves and list the token on Uniswap whenever they want.
This process has made cryptocurrency more free and open, empowering the community to drive what they want, rather than what centralized exchanges give them. Just look at the picture below – a decentralized swap is hanging with the big boys.
In light of the recent DEX interest, we're going to highlight some DEXs to show you what's going well, what could be improved and then a solution on the market that's trying to fix the problems of existing DEXs.
Uniswap
We've already talked a lot about Uniswap, but it deserves it's own short highlight here. Uniswap is a decentralized swap exchange based on Ethereum that recently released its own token, UNI. With Uniswap you can quickly swap between two assets based on Ethereum, providing the token is listed on Uniswap and it has liquidity added for the pair you're trying to swap between.
Uniswap has seen incredible success as of late, but has been suffering from the problems of Ethereum. The network has become incredibly congested with the DEX and DeFi interest, which has brought transaction fees way up and slowed the transactions to a crawl.
Sushiswap
Sushiswap is a fork of Uniswap, so it has many of the same features. It launched with one key difference, which was yield farming. Sushiswap incentivizes users to add liquidity, allowing them to stake their liquidity tokens and earn SUSHI tokens in return.
Because of this feature, Sushiswap racked up incredible volume and prominence in a short time. However, the hype has faded quite a lot now and more interest has flowed back to Uniswap. Furthermore, Sushiswap is still based on Ethereum, so it suffers from the same problems as Uniswap in that regard too.
1inch
1inch is a DEX aggregator, which means it allows you to access multiple DEXs at once, all in one interface. The benefits of this are simple – you get the best price, as your order is routed to wherever the most liquidity is available. Again, 1inch is Ethereum based only.
The Tixl Exchange
The Tixl Exchange is a Swap DEX coming to the Tixl DeFi Ecosystem. It will be a new decentralized swap exchange, with a few key differences to the ones already mentioned. Mainly, it's chain-agnostic, meaning it will be able to support multiple blockchains such as Bitcoin, Ethereum and more. It will also have fast transactions, high scalability and low network or gas fees. The TXL token will be the enabler of the DEX, as it is for the whole Tixl DeFi Ecosystem.
Which DEX could be the winner?
All of the mentioned DEXs have their selling points and there's a reason that they all have users. But, the willingness that users have shown to flow between offerings presents market opportunities for solutions like Tixl.
For example, the rise of Sushiswap was fast and sudden. It offered everything Uniswap did and more, so people rushed over. It was short-lived, but it shows the power a game-changing DEX can have on the market right now.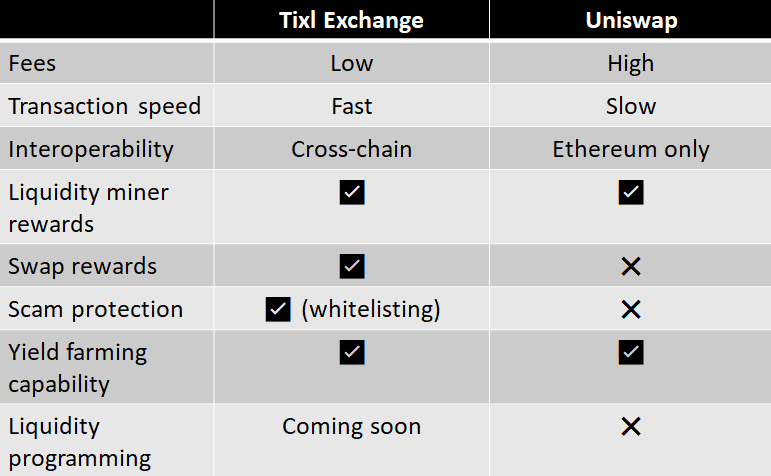 All in all, Tixl Exchange is aiming to be the DEX swap that everyone is looking for, by providing all of the benefits of the existing choices but improving upon the flaws.