Round the World in Markets
North America
The Federal Reserve has announced there will be no change in interest rates. The FED elected to hold rates between 0% and 0.25% in order to continue to stimulate an economy hampered by the coronavirus pandemic. Rates are expected to remain at these levels until 2022 when a vaccine will likely be available. Treasury purchases are also confirmed to remain unchanged at approximately $80 billion per month.
South America
Peru sees record-high exports of ginger. Believed to boost the immune system, the root was mainly exported to Spain, the Netherlands, and the United States. The Peru Ministry of Commerce stated that exports "sustained growth of 168 percent in the first quarter."
European Union
July will be a pivotal month in the EU as multiple countries open their borders for the first time since the COVID-19 virus. While Italy and Sweden currently are open, countries including France, Spain, and Poland have been shuttered to those outside the EU. The commissioner for home affairs, Ylva Johansson, explained on Thursday that the time had come to begin lifting travel restrictions, adding "The most important thing is to have all the internal borders open before we open the external border."
Africa
The global price of vanilla has fallen more than 50% following the coronavirus. As the main producer of vanilla for the world, Madagascar has taken steps to halt the further decrease in price. This included enforcing a minimum export price of $350/kg and maintaining strict harvesting schedules. In its most recent report, vanilla company Aust & Hachmann praised the price fixing as a temporary solution.
While the domestic use of industrial vanilla used in processed goods has increased, the demand for gourmet vanilla used in restaurants and bakeries has plummeted.
Asia
Thailand is moving to accelerate the implementation of 5G technologies to combat the economic impact of COVID-19. Thailand's Prime Minister Prayut Chan-o-cha met with Huawei Thailand this week to create the plan. "We appreciate Huawei's commitment to Thailand in the further cooperation on communications and telecommunications, especially the building of 5G network, which the Thai government has emphasized, and we are ready to develop our country's capability to become the region's digital technology leader."
The new development will be to invigorate the digital economy and increase connectivity as the country's citizens are adapting to working at home. The Southeast Asian nation has a robust tech hub, producing hard drives and other computer components for the world. In 2019 it ranked 6th in global computer exports and the second-largest exporter of hard drives after China.
Middle East
Dubai is seeing brain drain amongst its expat community. Oxford Economics estimates that the UAE could lose 10% or 900,000 of its citizens leave to their country of origin. These middle class and blue-collar workers are leaving the area as the pandemic causes the local economy to continue to drop. While the Middle East area is known for its rich oil reserves, Dubai's economy is largely dependent on tourism, business networking, and global trade. Dubai hotels alone are estimated to cut 30% of their staff.
What Happens in Vegas Stays in Vegas, Unless it's COVID-19
(Image Courtesy of CNN)
The city of Las Vegas has begun to open up its casinos and restaurants. As other parts of the US remain closed due to the coronavirus, Mayor Carolyn Goodman stated that she was "cautiously pleased" that businesses would be welcoming new guests after nearly three months of shutdown. The decision was made after Nevada entered "Phase 1" of reopening, which allows businesses to operate if people stay at least six feet away from each other. Other safety measures including handwashing stations and temperature readers have been installed throughout hotels and other establishments. Despite signage in multiple hotels stating these requirements, photos show that many are not heeding these directions.
Among the most popular hotels reopening are Caesars Palace, Luxor, the MGM Grand, Bellagio, with Aria and Excalibur to follow in July.
The continued lockdown and "COVID Fatigue" appear to be fueling a drive for visitors flocking to Vegas. Several people interviewed have cited a wish to do something "normal" as their reason to return to Sin City. Lisa Brown, the Preparedness Coordinator of the New Hanover County Public Health department cites COVID fatigue as "the general sense of being tired of taking extra precautions to prevent the spread of the virus." Social distancing, conflicting information about the virus, and a lack of leadership have all added to this mental struggle.
Unfortunately simply being tired of the virus does not make it go away. Since Memorial Day a number of states have shown a sharp increase in COVID cases as the total number of confirmed cases surpasses 2 million.
The latest projection for COVID deaths is not positive. Harvard Global Health Institute estimates there will be an additional 100,000 before September. The institute director Dr. Ashish Jha stated that even after September the virus will still be around. "The pandemic won't be over in September . . . So, I'm really worried about where we're going to be in the weeks and months ahead."
Arizona is the latest state drawing attention due to its infection rate. On Wednesday it posted 1,291 hospital beds in use with those either confirmed or suspected COVID cases. Not only are new cases on the rise, but the percentage of cases coming back positive trending up. This week the state health director informed all Arizona hospitals that they should "fully activate" their emergency action plans. The majority of new cases appears to be from nursing homes and assisted nursing facilities.
Y Tesla, Y?
Tesla continues to make headlines both on and off the charts. Its recent stock price breach of $1,000 on Tuesday signaled a strong desire for the automaker amongst investors before sharply declining to $935 for the week.
The addition of new vehicle models and an enthusiastic following has thrust Tesla ahead of the other main automakers. The model Y, an SUV crossover, has had less demand than anticipated due to drivers spending more time at home, and less on the road.
At the $1,000 stock price Tesla has a market cap of $185 billion, more than GM ($41 billion), Ford ($21 billion), and Fiat-Chrysler ($20 billion).
(Image Courtesy of Twitter)
Looking forward Tesla is working on its electric semi-truck first announced in 2017. In a tweet on Wednesday Elon Musk confirmed that a recent Tesla leak that announced limited production on the new truck had begun. The truck should be available sometime in 2021, boasting a 500-mile capacity at 65 mph when hooked up to a full trailer.
In addition to adding a vehicle to the Tesla fleet, new details have emerged about its new battery, rumored to be able to run one million miles before needing replacement. Wedbush Securities analysts Dan Ives and Strecker Backe commented earlier "In theory, this battery will support an electric vehicle for 1 million miles and be a major step forward when competing vs. traditional gasoline-powered automotive competitors." The new technology would allow a battery cost of $80/kWh, below the $100/kWh industry goal.
Not to be outdone, GM confirms it is also devoting resources to its own battery technology. Its Ultium technology is a joint venture between GM and LG Chem which promises to allow new GM vehicles a 600-mile range on a full charge.
But it is not all good news for Tesla. As we previously reported, the car company has run into production issues at its production facilities in California. At least two factory workers have tested positive for COVID-19 since the plant reopened, as per the Washington Post. Additionally, the new Tesla Model Y has run into production issues stemming from supply chain issues.
Recession Part Deux
Following a two-day meeting, the Federal Reserve has issued a warning that we are headed into a recession. Despite injecting trillions of dollars into the economy, the high rate of unemployment, and continued impact of the coronavirus has decreased the US GDP by 5% in May. FED chair Jerome Powell issued a warning on future projections: "First and foremost, the pace of recovery will ultimately depend on the evolution of the COVID-19 outbreak in the United States and abroad and the measures undertaken to contain it."
Fears of a recession due to COVID were initially dampened by the FED's lowering of interest rates, increasing inter-bank lending, and the buying of bonds and bond ETF's. These measures were enough to spark a recovery in the stock markets but the underlying issue remained present. Only by addressing the issue of the virus itself will the economy fully recover.
Meanwhile, some states and hospitals are still lacking the personal protective equipment (PPE) to properly protect themselves while working with coronavirus patients. In these states a resurgence of the virus could significantly tax an already overburdened healthcare system, leading to a higher rate of mortality.
The FED report went on to suggest that Americans out of a job will be an ongoing issue. It estimates that the unemployment rate would end at 9.3% in 2020 and trend downward to 5.5% in 2022. Prior to the COVID-19 pandemic, the US had an unemployment rate of 3.5%.
Recessions are defined as a decrease in GDP over two consecutive months. As we are currently in Q2, the "official" recession will not be determined until July when Q3 begins. Stocks pulled back on the dour news with the S&P 500 dropping over 300 points.
Should We Promote Bitcoin During Civil Unrest?
By Jason Nelson
"Chancellor on brink of second bailout for banks"
Satoshi Nakamoto – Message in the Bitcoin Genesis Block
In times like these, we need to remember the world of Satoshi Nakamoto when he released the Bitcoin whitepaper. The world was in the midst of the 2009 financial crisis, the greatest since the Great Depression. While ordinary people lost their jobs and homes, governments choose to bail out banks and large businesses.
Fast forward to 2020. The world again finds itself in a financial crisis due to COVID-19 rather than an economic calamity. Social upheaval protests have spread across the globe after the murder of George Floyd. There is an ongoing debate on social media on social reform. Is it appropriate to carry signs in the protest referencing Bitcoin?
During one of the protests, a protestor held up a sign saying, "Bitcoin will save us." But this was not the first time Bitcoin was referenced at a demonstration. In 2019 during a protest in Paris France, a protester was seen with a safety jacket that said "Buy Bitcoin" on the back.
The photo went viral on Twitter and social media as it was yet another sign that the word on Bitcoin was spreading.
Another photo went viral during a session of Congress; Christian Langalis held up a paper that read "Buy Bitcoin" behind Janet Yellen, the former chair of the Federal Reserve.
While these demonstrations are encouraging to the Bitcoin enthusiastic it raises the question, is it appropriate to promote Bitcoin in times of unrest?
Crypto enthusiasts are passionate. It's easy to write someone holding up a sign that says to "buy Bitcoin" off as a shill or clout chaser.
But that is unfair to the many very passionate people who make up the space. As content creators and evangelists spreading the word on Bitcoin, blockchain, and cryptocurrency is a deeply held belief.
Unfortunately, in that passion we may forget that there is a learning curve involved. So when we walk around with signs saying "buy Bitcoin" or "Bitcoin will save us," we also need to be sure to add the why.
A great example of this was during one of the recent protests. A Spanish language channel interviewed a young black man about what was going on. Clearly and concisely, he pointed out how and why people need to become involved with Bitcoin:
"Unfortunately, we live in a system that would not allow us to thrive and strive and has continually literally been on our necks. So my macro solution for this problem for everyone is to opt-out and exit the economy as a whole, and the way we do that is by buying Bitcoin."
When put into proper context "buy Bitcoin" becomes a rallying cry. Against a failed financial system and, by extension, a failed government. If we tell people they should get involved with Bitcoin; we need to be sure to guide them on the right path.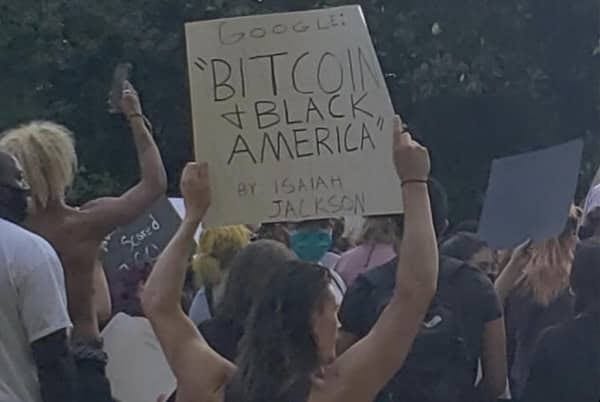 Another sign that was seen at the protest was "Google Bitcoin and Black America by Isaiah Jackson." This sign is different in that it gave a specific call to action to search out a resource that will inform and teach you about Bitcoin. Not only does Bitcoin and Black America explain the how of Bitcoin but also the why.
The above example is more useful than a placard saying "Buy Bitcoin" alone. In the end, while Bitcoin can not solve the issues of racism, inequality and discrimination it can be a part of the solution.
To answer the question "is it appropriate to promote Bitcoin in times of unrest?" the answer is undoubtedly yes, if done the right way.
Take care.
Kaltoro
@kaltoro_
This newsletter, analysis, research, and commentary provided by Modern Markets, lead analyst Kaltoro, with contributions from TytanInc and Digital Lawrence. The publication incorporates data from numerous sources including, but not limited to, CoinMarketCap, Bloomberg, CNBC, Lunar Crush, and the team at FomoHunt.
About FomoHunt
FomoHunt is the premiere crypto and blockchain event discovery platform. With a strong presence at most events and conferences, FomoHunt brings you exclusive content around up and coming projects as well as the traditional mainstays.
FomoHunt wants to keep you up to date about everything new happening in the space by giving you total access to every event in crypto.
You can find their social platforms below
FomoHunt.com
LinkedIn
FomoHunt – Discover. Blockchain.