Relative Strength Index (RSI) is one of the most popular trading indicators and not just in cryptocurrency. Traders in all kinds of financial markets find value with the relative strength index indicator.
What does RSI show?
RSI is a mathematical formula that analyzes the past performance of an asset and presents the results on a graph for you to easily visualize. It is displayed as a simple line that can have any value between 0 and 100 and it can be used to see when a market is 'overbought' or 'oversold'.
RSI is a momentum based indicator, which means it presents the momentum of the current market. It does this by comparing the strength of a market's recent gains to the recent losses.
How to use RSI
The most simple way to use RSI is to judge the momentum of a market based on the presented line chart.
On RSI there are two horizontal lines at 30 and 70 by default. These are the standard areas that depict oversold and overbought levels. An oversold market is thought to be when RSI drops below 30 and an overbought market is thought to be when RSI rises above 70.
Not all traders agree on these set levels, some prefer to move the levels to reduce the errors, such as to 20 and 80.
Traders will use these levels in conjunction with other technical analysis techniques to assess the current market trend and reach a trading decision.
Divergence
Another powerful way to use RSI is by spotting divergence. This means that the movement of the price chart is divergent to the RSI chart.
The type of divergence you spot determines the trading signal. There are both bullish and bearish divergence types you should watch out for. You are going to be looking for highs and lows of both price and RSI and they need to form at the same time.
Bullish Divergence can be formed in two different ways:
Price shows a lower low, but RSI shows a higher low.
Price shows a higher low and RSI shows a lower low.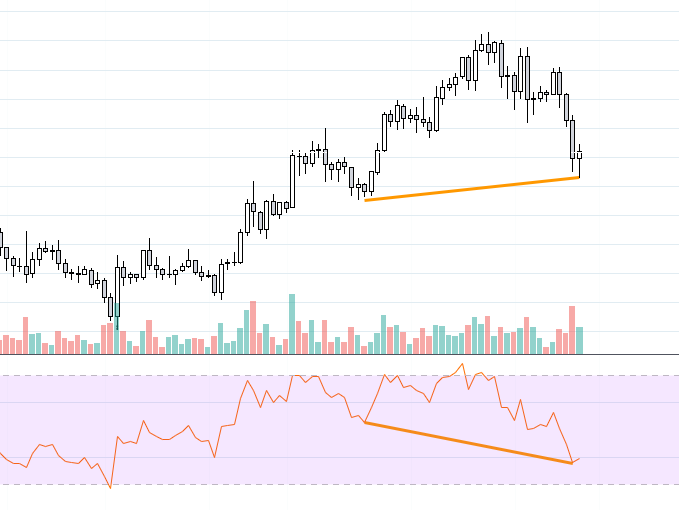 Bearish divergence can be formed in two ways too:
Price prints a higher high and RSI prints a lower high
Price prints a lower high and RSI prints a higher high
Start using RSI today!
Now you know the basics of RSI and how it works, get out there are look for some trading signals of your own.