Get more insights like this by signing up to Sanbase Pro, featuring on-chain, social and development indicators for 900 coins, unique alphas, custom market research and much more. Get 20% off with the promo code "TDC_SAN"!
Since the fall below $10,000 in February this year and the subsequent recovery from the Black thursday meltdown, BTC has been struggling to once again break through the $10k psychological barrier. The top coin has attempted to breach 10k three different times over the past month but continues to struggles to close above it.
Following the latest classic Bart pattern dump, BTC now aims for the $10,000 mark yet again… and in the famous words of BTC_JackSparrow, "Never trust the….4th", implying that it's likely to break and stay above whenever that time comes.
That said, the rising price and falling trading volume does remain a concern as it indicates a looming 'bearish-ness' in the air. This was also observed in Bitcoin's 2nd failed attempt to break above $10,000 back in late May.
As such, a commanding surge in Bitcoin's trading volume over the next few weeks would be much more encouraging to confidently tackle the $10,000 mark than what we're currently seeing: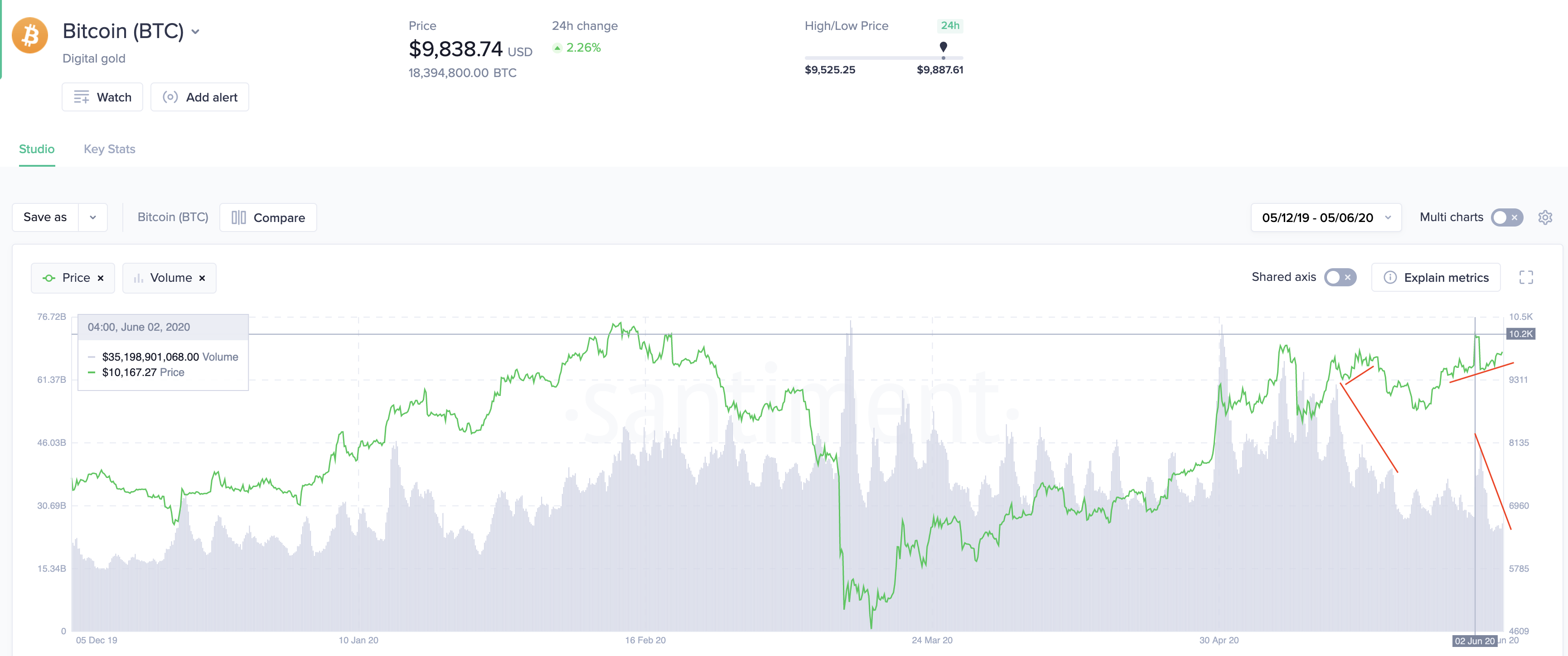 Institutional interest continue to grow
Regardless of its short-term price action, it seems that there has been a substantial growth in Bitcoin-related institutional interest so far this year.
As observed by Kevin Rooke on Twitter, Grayscale added 9,503 BTC to its GBTC investment trust over the past week alone. This amount is more than the amount of BTC mined (6,863 BTC) for the week.
This continuous buying comes after a surge in investment into Grayscale's GBTC trust in Q1, which likely indicates that we should see a similar pattern when their Q2 report comes out:
Below is a history of GTBC's BTC holdings since Dec 2017 till May 2020 provided by Reddit user parakite:
At the time of writing (June 5th), Grayscale holds approximately 362,851 BTC ($3.5Bn USD) , which represents 1.97% of all BTC in current circulation.
MVRV Long/Short difference turns bullish
One of the custom on-chain indicators available on Sanbase, Bitcoin's MVRV Long/Short difference is our addendum to the popular MVRV ratio, and looks at the disparity in the ROIs of long-term vs short-term Bitcoin holders.
To make this article about 700 words shorter, those interested in exactly how MVRV Long/Short difference works can read about it here. In a nutshell, however, this indicator will often bottom at the lowest point of Bitcoin's bear market and peak at the top of its bull cycle.
Since Bitcoin's inception, the MVRV Long/Short difference indicator has crossed the 0% mark only 4 times. The first 3 times it happened all earmarked the start of a major bull run for the world's largest cryptocurrency.
In fact, we covered the indicator's third move above 0 back in May 2019. When we wrote the article, Bitcoin was hovering around $5900. Within a week, it breached the ~$8000 level. In 45 days, it was retesting $13000.
The 4th time it happened was in February of 2020 – right as the coronavirus pandemic became a reality. Even so, the price of BTC grew by 9.6% within a week of the MVRV L/S crossing the 0% mark. And then, well, Black Thursday happened, and we'll never know what might have happened next.
Well, boys and girls, we just went above 0 again a few days ago. At the time of writing, Bitcoin's MVRV Long/Short difference is already hovering around 3.45%, up from -18.5% at the beginning of May. This indicates that the MVRV ratio of long-term BTC holders has overtaken the MVRV ratio of short-term BTC holders, which has historically coincided with a bullish breakout:
According to Valentin Mihov, Santiment's CTO:
"The explanation could be that the short term traders are usually profiting when the market goes down and sideways, while during a bull run the long term holders are the ones that will have the final call – ultimately when the long term holders start to sell, that will be the end of the bull run."
Bitcoin-related social sentiment continues to drop – good for BTC?
There was A LOT of hype surrounding Bitcoin prior to and immediately after the May 12th halvening. And this is not coming just from our personal experience with crypto Twitter lately – it's also backed by cold, hard data.
At the moment, Santiment tracks over 1000 crypto-specific social media channels, collecting and filtering hundreds of thousands of new comments and messages every day. Using this dataset, we built our own social sentiment algorithm, and trained it to label incoming messages on a scale from 'very positive/bullish' to 'very negative/bearish'.
One of the coolest metrics to come out of this work is our 'Sentiment Volume Consumed' metric, which calculates the difference between the amount of positive and negative coin mentions all over crypto social media, and adjusts it for the amount of social volume. Essentially, it can tell you whether the crowd is bullish or bearish on Bitcoin or any other coin in our database.
Currently, Sentiment volume consumed is showing that the crowd (using twitter as source) have entered into the negative sentiment area. Now, some might think this should be a bad sign for BTC's short-term action – but not necessarily. In fact, it's the extremely bullish sentiment that has often led to Bitcoin corrections in the past, as the hype peaks and whales dump on the FOMO crowd.
As you can see on the chart above, several local BTC tops in the last year – including both 2019 tops – were accompanied by strong growth in bullish BTC sentiment.
On the other hand, most Bitcoin rallies in the last year started in a predominantly bearish atmosphere. It's basically the 'crowd is always wrong' principle, visualized:
Breakouts in July, August, October and December 2019 all coincided with a decidedly negative mood on crypto social media. Most recently, Bitcoin's post-Black Thursday rally started when Twitter sentiment was at -0.5, marking a strong bearish mood within the community.
Bitcoin's current sentiment charts feel a bit reminiscent of the May 2019 interim top. The price of Bitcoin mushroomed over 50% all the way up to $8050 between May 1st and May 15th, along with a massive spike in bullish BTC sentiment. Then, the crowd mood started to decline, correlating with a period of consolidation and short-term retraction back to $7700 range.
Once we were comfortably back into bearish sentiment, only then did BTC skyrocket again, this time peaking at $12500.
Going forward
BTC fundamentals continue to remain sound, and as stated in another one of our recent insights, we remain cautiously bullish on BTC.