Amid Bitcoin's ongoing consolidation, the market attention has ostensibly shifted away from perennial top-caps and towards lending protocols, decentralized exchanges and multiple other DeFi-based initiatives.
But don't take my word for it – ever since Bitcoin's 'halvening' on May 11th, the benchmark coin's trading volume has been in a state of constant and ongoing decline, lending credence to the idea of organized 'capital flight' from crypto 'blue chips' into a growing number of mid and low-cap altcoins.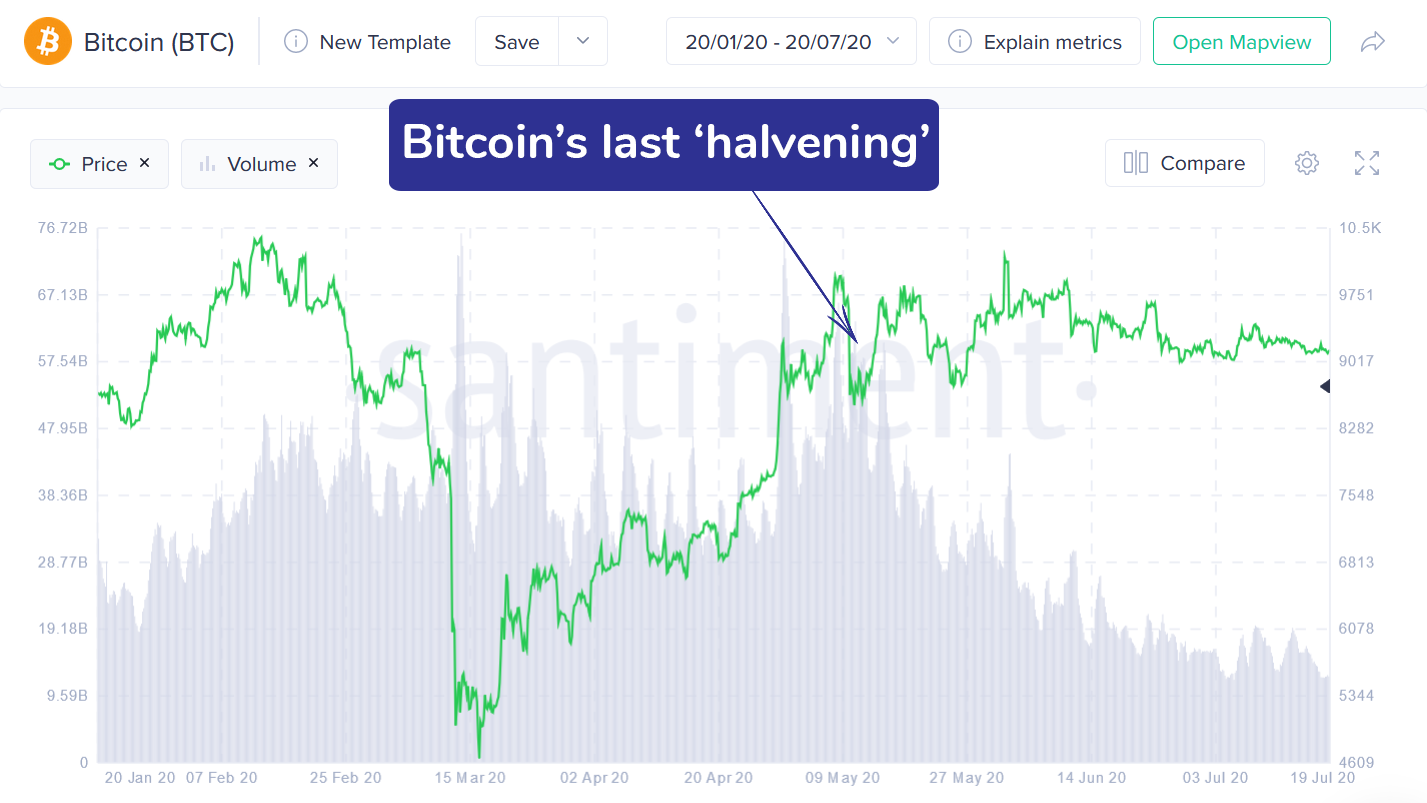 On May 11th, Bitcoin's recorded trading volume was around $105,730,000,000. In comparison, the last 24 hours saw a 'mere' $26,290,000,000 being exchanged between traders – a 75.1% decline.
And it's not just BTC, either. Other top-ranked assets including Ethereum (ETH), Litecoin (LTC) and Bitcoin Cash (BCH) have all experienced a similar drop in speculative interest over the past couple of months, to make for a wholly disappointing Q2 trading report:
However, this money didn't just go up and leave the market – far from it. And while the top crypto brass continues to struggle, the grass just keeps getting greener on 'the other side'.
A few weeks back, we created a quick little watchlist we called the 'DeFi summer', counting 38 tokens powering various decentralized finance solutions. In the past month, the entire cryptocurrency market cap grew by a flimsy +2.7%. At the same time, the collective market cap of our 'DeFi summer' tokens gained a massive +29.2%.
In the past month, the trading volume of the entire crypto market dropped by almost an entire quarter (-23.5%). At the same time, the collective trading volume of our 'DeFi summer' tokens recorded a monster growth of +97.9%!
Put simply, all roads lead to DeFi.
The speculative pivot can clearly be seen on the volume charts of most of today's most popular DeFi assets. Some coins, like REN and BNT – started attracting trader interest earlier than most (REN also launched their Mainnet in May), their volumes already skyrocketing around mid-to-late May. For posterity's sake, let's call this 'the first DeFi wave', which was promptly followed by the likes of LEND, KNC, SNX and a number of others joining them in early June (the second wave):
For a side-by-side comparison between the top coins and the 'little alts that could', the last 30 days saw both Bitcoin and Ethereum's trading volumes drop by ~37.5%, respectively. In the same time frame, REN's volume is up 130%, KNC's volume is up 338%, while LEND's volume is up a ridiculous 745.5%:
And while the first few altcoin pumps were localized, the market has gone full 2017 in the past month. The 'DeFi wave' is now more like a tornado, sweeping up anything and everything even remotely connected with decentralizing finance.
Last week I wrote about Mainframe, a blockchain project launched in 2018 on the promise of a censorship and surveillance-resistant communication protocol.
On July 15th, the Mainframe team announced a complete pivot into DeFi and is now building a decentralized lending protocol. While ambitious, Mainframe's plan is currently not much more than an idea and an 11-page whitepaper. Mainframe token's (MFT) price since the announcement? +143.4%.
In the past few weeks, the DeFi craze also infected a number of DeFi-adjacent projects, like the decentralized oracle networks such as Chainlink and Band Protocol, whose latest rallies have been largely pinned on the tokens' scaled usage in the DeFi space. Third wave, anyone?
It's also worth noting that most of the pumping coins experienced a simultaneous and explosive growth in their network activity, namely the amount of unique addresses interacting with them daily.
The fact that many of these rallies are supported by strong fundamentals is reassuring, although there's simply no denying that most of these new addresses aren't stemming from some abrupt increase in the coins' respective utility. Rather, the growth is mainly driven by bandwagon traders looking to cash in on the 2020's version of ICO.
So, here's the million DAI question – is DeFi a bubble and if so, how long will it last? We've got some (read: a lot of) thoughts on this coming in a future article. But for now, even just the fact that we're now seeing wholesale decoupling of DeFi-related assets from Bitcoin should be encouraging for the maturity of the crypto market, and its longstanding dependence on how the benchmark cryptocurrency will perform. Watch this space.
Final Notes
This report was produced using Santiment's growing suite of market and network analytics tools – Sanbase and Sandata – which help users analyze the crypto market and find data-driven investment opportunities.
Santiment provides clean and reliable on-chain, social media and development information on over 1000 crypto assets, and develops unique metrics, signals, strategies and reports on top of our custom datasets.
The Daily Chain Offer
We are absolutely delighted to announce that readers of The Daily Chain have a completely unique offer to the Santiment Platform that you won't find anywhere else.
All you have to do is use the code "TDC_SAN" to get 20% OFF any monthly or annual plan to Sanbase Pro.
Sanbase is a comprehensive website for token and network analysis, custom metrics, low-latency signals and exclusive market reports.

With Sanbase Pro (~$40/month using a discount code), you unlock full data for all on-site metrics and get access to unlimited signals, pre-made templates for market analysis, internal Santiment reports and much more.
Check out Sanbase and redeem your discount code here.
For more Santiment articles click here.
About Santiment
Santiment is a market intelligence platform that adds context to crypto. They provide clean data and tools for market research, behavior analysis, trading and risk management, and coin/project due diligence.
The project collects on-chain, social media, pricing and development information on 800+ coins and their networks, and uses this data to create custom tools, metrics and unique market insights.
You can find them on:
Check out their website for custom charts, low-latency signals, insights and much more.