The long-awaited launch date for Tixl.Finance has been set for January 11th, 2021. Those who signed up via email will be granted early access to the platform. If you haven't already signed up, you can still sign up: here.
The public launch of Tixl Finance will take place two weeks after the early access launch, on January 25th. The team decided against launching during the busiest holidays of the year; it didn't seem to be optimal for the marketing of Tixl Finance to commence during this time.
---
What Makes Tixl Finance Unique?
On the surface, it might seem like Tixl Finance is similar to Messari, CoinMarketCap, & CoinGecko. However, upon closer inspection, we can see some glaring differences between Tixl Finance and the rest of the pack. Smart filters, AI-powered fundamental ratings, and all investment-relevant information conveniently displayed in one platform, in real-time.
Tixl Finance claims to offers a unique set of features compared to other platforms that fail to interpret the data more profitably to maximize its users' returns.
Community-driven with easy create & edit Github processes
AI-powered scores like Sentiment and the objective Tixl Score
Unique Slippage data, per coin/trading pair
Many more features coming soon
---
Convert Critical Real-Time Data into an Easy-to-Use Ranking Score
Instead of presenting the user with different datasets, Tixl Finance is taking it a step further by interpreting and presenting the data in a way to make it more valuable and applicable to all users of the platform while allowing for even the most inexperienced of users to utilize the platform profitably. This feature is indicated by the Tixl Score, allowing investors to quickly discover the most promising investment – with a single click.
---
Strict Token-Screening Protocol for All Listed Projects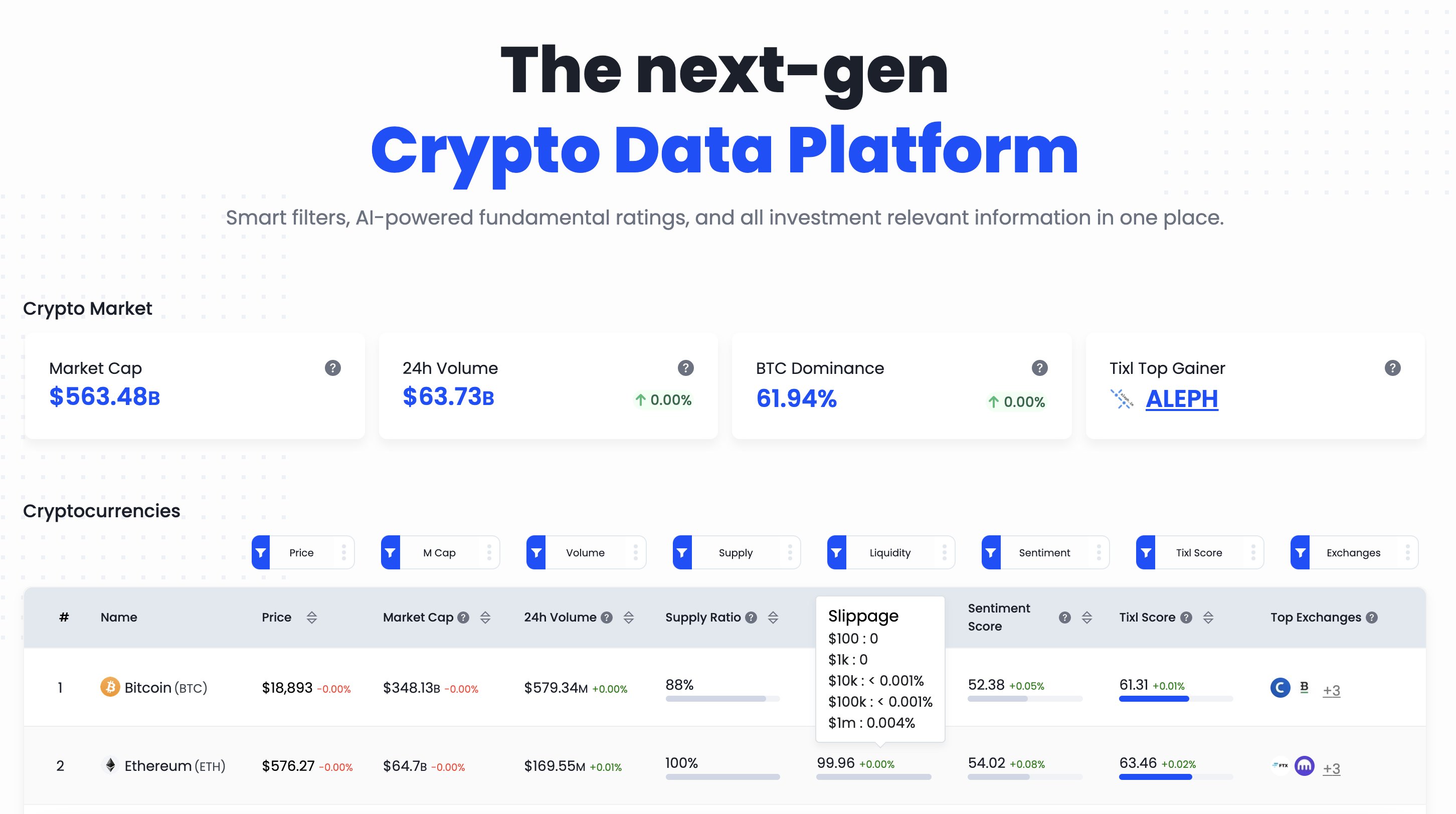 The method described above will also function as a filter to weed out projects that undeservedly rank highly on other platforms due to their market cap while they are just inactive or just short-term, hyped-up projects in reality. Tixl Finance also added several other features, such as customizable filters and a unique liquidity rating system.
---
Behind the Scenes
Tixl Finance is a joint-venture of the former Blockfyre GmbH and the Tixl Organisation, two German companies. Blockfyre specialized in research and data; Tixl, with its $TXL token, is creating a highly-efficient DeFi (decentralized finance) ecosystem. Its interoperable layer-1 network enables any asset (including BTC) to be transferred instantly for free, or very close to it.
This looks to be a powerful connection that will surely be leveraged efficiently to ensure that Tixl Finance, and the entire Tixl ecosystem as a whole – thrive in the DeFi space for the foreseeable future.
---
Important Links:
Social Media:
Telegram: https://t.me/tixlOrg
Twitter: https://twitter.com/tixlfinance
---
Don Cheng
The Daily Chain
*Disclaimer – Tixl is our Media Partner, and this content is made possible with their support. The above article does not represent financial, investment, or trading advice, and we do not recommend the purchase of any cryptocurrency or product without consulting a financial aid. The Daily Chain strongly encourages you to do your own research before making any investment decisions.